Idaho National Laboratory study demonstrates the impact of incorporating Open OnDemand into an HPC environment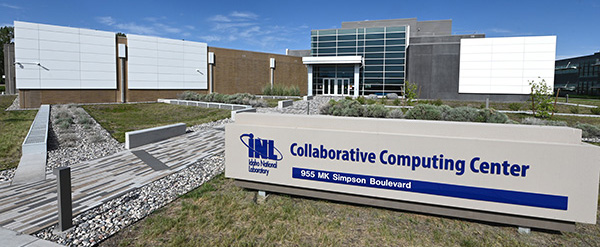 The Ohio Supercomputer Center (OSC) developed the Open OnDemand platform with the aim of making high performance computing (HPC) easier for anyone needing to do data-intensive work. After adopting the platform on their systems, IT staff at the Idaho National Laboratory (INL) published a research paper that confirmed Open OnDemand's significant positive impact on HPC usage in their organization.
Led by INL's HPC System Administrators Bradlee Rothwell, Matthew Sgambati and Brandon Biggs, the team published their findings in a research paper titled "Quantifying the Impact of Advanced Web Platforms on High Performance Computing Usage," first presented at the Practice and Experience in Advanced Research Computing (PEARC) conference in 2022.
HPC centers across the nation use various methods for facilitating remote access to their resources. Approaches vary in application and complexity and often require significant knowledge of computing and HPC to be effectively used. Some centers are adopting web-based portals known as science gateways to package HPC cyberinfrastructure components into user-friendly interfaces that can reduce barriers to access and simplify the process.
Sgambati and Biggs aimed to improve HPC access by implementing a science gateway at INL, but they encountered resistance to change within their community.
"There was a lot of pushback because it steps on people's territory; change is always a hard thing," Sgambati said. "Luckily, I came upon Open OnDemand, and I really liked the way it was laid out."

Open OnDemand stood out to Sgambati and Biggs because it simplified and unified access to HPC while remaining flexible enough to fit their institution's needs. Operating on an open-source, community-driven model, Open OnDemand evolves through the feedback and contributions of its users. The INL team has become active within the community through sharing their own findings and helping to push the technology forward.

"It's nice to see that the community actually finds the things we've been taking time to extend and add within Open OnDemand interesting," Sgambati said.
INL quickly found that the community of users provided a wealth of support. When they needed help that they could not find within the community, the OSC team stepped up to support them.
"I cannot speak highly enough of OSC," Biggs said. "The OSC team has been incredible in not only developing and adding new features, but also just the response times. They've been better than paid products."
Having experienced resistance from their own community, Sgambati and Biggs wanted to help others trying to justify shifting to a science gateway for HPC. Their research was published in the Association for Computing Machinery Digital Library as part of the proceedings of the PEARC conference in 2022.
"This paper shows that by implementing a science gateway, you will save time in the end," Sgambati said. "It justifies the initial investment."
In their research, the team focused on the metric of average number of days between when an account was set up and their first job submission. This metric is referred to as "job submission friction" and highlights the effects of the various barriers to entry user experience. The research, conducted between March 2020 and September 2021, showed that Open OnDemand reduced the job submission friction by a factor of 19, allowing domain experts to devote less of their time understanding HPC and more time using the resources.
"Open OnDemand simplified everything we were trying to do because it had all the tools in one space," Sgambati said. "It let domain experts focus on their domain and not have to become experts at HPC as well."
The team also measured the INL data center's total power usage before and after Open OnDemand was temporarily removed from operation on short notice for maintenance to gauge the software's adoption. Users clearly relied on Open OnDemand to access HPC resources, with a total power decrease of roughly 3.7% upon its removal. Those users chose to wait for Open OnDemand to be available again, despite having access to the previous methods.
"For many, it was inconvenient to go back to the way they used to connect to the HPC resources; they preferred to just wait for Open OnDemand to come back online," Biggs said.
The adoption of Open OnDemand at INL and the research findings provide a resource to institutions striving to improve the accessibility of their own HPC resources. These findings offer valuable insights in the face of resistance to change, allowing HPC centers to present concrete data that speaks to the long-term advantages of science gateways and Open OnDemand, Biggs and Sgambati said.
"This research is important for many groups because it gives them the ability to say that this tool does matter," Sgambati said. "We provided a quantitative study that shows it's worth the time and effort. I don't think there was anything else out there justifying that science gateways can and do make things better for the user and the staff."

"We are grateful to Idaho National Laboratory for their investigation and thrilled that their findings align with our experience that Open OnDemand is a platform that makes HPC easier for everyone," said David Hudak, executive director of the Ohio Supercomputer Center. "We hope this paper will enable interested HPC centers to adopt Open OnDemand with confidence."