Miami's Mueller supporting HPC needs of university's faculty, students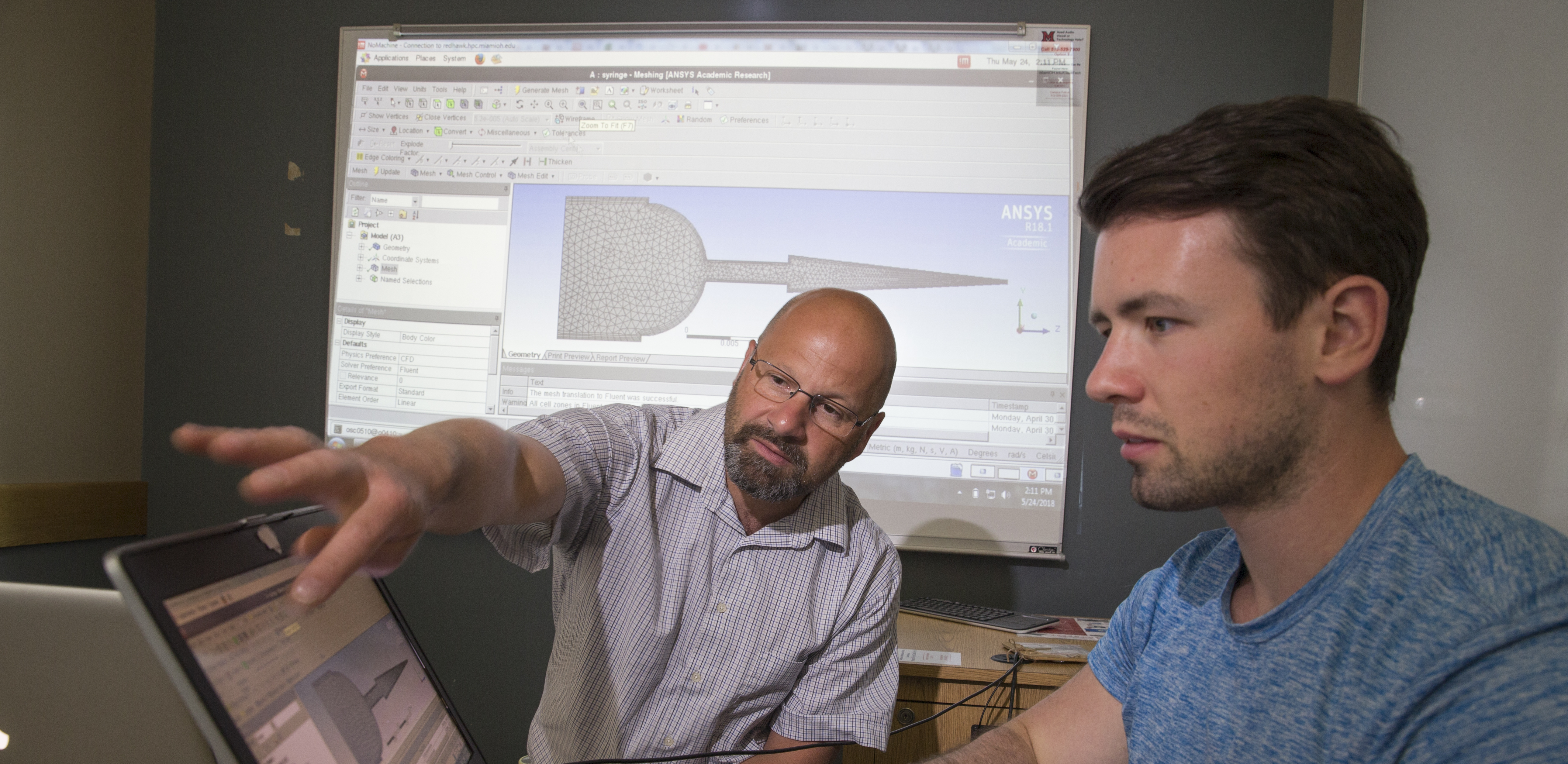 The demand for high performance computing at Ohio's universities has significantly grown and diversified. Jens Mueller, Ph.D., has witnessed that first hand at Miami University.
Mueller is the director of high performance computing services at Miami University and a Campus Champion for the Ohio Supercomputer Center, supporting faculty and students in all stages of their HPC needs.   
"In some way, I'm the person for everything," said Mueller, who has worked with OSC for more than 10 years. "The highlight at Miami is the broad spectrum of fields using computational research. I've only gotten busier because everything is more data driven, increasing demands."
Traditional HPC users at Miami and many Ohio campuses include the engineering departments, computer science, math, physics, chemistry, geography and geology. However, Mueller has witnessed a growing demand from the business school, economics, finance, humanities, political sciences and even the English department.
And the broad spectrum of disciplines also means a broad spectrum of computational skill sets.
 "One of the challenges in my role is to identify the proper computational resources based on experience and expressed needs," Mueller said. "This includes software tools and specific hardware resources."
Mueller and his team follow a tiered approach to helping researchers meet HPC needs. They start with Miami's local clusters and, once they are exhausted, Mueller facilitates the transition to OSC.  
Mueller also helps facilitate a class partially taught on OSC machines to assist people through the process of using HPC resources, everything from applying for an account to reserving compute nodes to gaining software licenses and even using OSC OnDemand.
"I look at what challenges they'll face and how they can be eliminated," he said. "I just want to make sure the transition is smooth."
Mueller also works one-on-one with research groups and faculty labs. And while he helps Miami's researchers a great deal, he also helps OSC. He was part of the OnDemand committee to give feedback on its usability and regularly communicates to OSC what is working well and what isn't.
"We contribute to OSC and that's beneficial to them, of course the benefit to us is great as well," he said. "Researchers can get amazing things accomplished using OSC."
Mueller highlighted a few recent Miami projects in which he helped researchers make the most of OSC's resources:
Graduate student Melvin Ikwubuo, with David Munday, Ph.D., associate professor in Mechanical and Manufacturing Engineering, is studying the effect of geometric features on film cooling efficiency. The project was featured in a poster presentation during the OSC Statewide Users Group in April.
 

Amelie Davis, assistant professor of geography, is in a research collaboration on computational analysis of satellite imagery, using the tool R at OSC to predict forage suitability for

honey bees and other pollinators.

 

Graduate student Erik Brodin, with Professor Jessica Sparks, Ph.D., in Chemical, Paper and Biomedical Engineering is in a research collaboration on 3D printer syringe modeling.

 

Amy Yousefi, Ph.D., a professor in Chemical, Paper and Biomedical Engineering, has a senior design student project attempting to model flow of cell culture fluid in bioreactors with the goal to improve bone growth in artificial scaffolds.

 

Rachel Blum, Ph.D., assistant professor of political science, used automated content analysis to study the dynamics of political parties via a topic model. The sources were a vast collection of blog posts and interview data.

 

Dr. Andor Kiss, Ph.D., director of the Center for Bioinformatics and Functional Genomics, had a project studying the genome of the wood frog, a species that freezes in the winter and comes back to live in spring when it thaws.
Project Lead: Jens Mueller, Ph.D., Director of High Performance Computing resources, Miami University
Research Title: Campus Champion
Funding Source: Miami University
Website: https://blogs.miamioh.edu/researchcomputing/people/